Rug Cleaning
Q.1 Do you know how to Professionally Clean my Rug properly without damaging it?
A.1 Yes. We Clean to the Highest Possible Standards: Australian and New Zealand Rug Cleaning Standard AS/NZS 3733:1995 and the International Body at the Institute of Inspection Cleaning and Restoration Certification (IICRC) S100 Standard.
Q.2 Are your Carpet Cleaners Professionally Trained & Accredited?
A.2 Yes, our Carpet Cleaning Technicians are IICRC Professionally Trained & Accredited!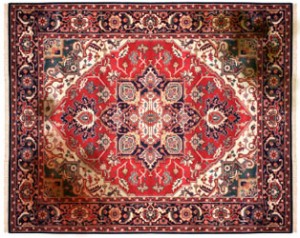 Q.3 Do you Clean Cheap Rugs? And Expensive Rugs like Wool or Silk too?
A.3 Yes we do. No matter what type of Rug you've got, we know how to Professionally Clean it. Even if your Rug is Badly Stained or has Urine or Excrement Damage, we know how to fix it as we Specialize in Rug Cleaning and Pet Stain Cleaning!


Q.4 Do you pre-vacuum the Rugs with a Asthmatic Friendly Commercial Quality Vacuum Cleaner as part of the Cleaning process?
A.4 Yes, we don't cut any corners on High Quality Cleaning or Customer Service!
Q.5 Do you have a 100% Customer Satisfaction Guarantee?
A.5 Yes. We offer a 14 day 100% Satisfaction Guarantee.

Switch to full Website version